| | | |
| --- | --- | --- |
| | | |
| | | |
| | General/Intro Java Books | |
Introduction
There seems to be a vast number of general java books on the market. The creators of some seem to think that pagecount=quality. I am just listing the essentials here. The ones I would want if stuck on a desert island (with a laptop and source of power as well of course).
Java in a Nutshell Flannagan/O'Reilly
I own four copies of this book (for JDK 1.0, 1.2, 1.3 and Deluxe CD version and I also have the companion source book so you could call that 5) When the next version comes out I intend to buy that as well. Compact, inexpensive, a must buy.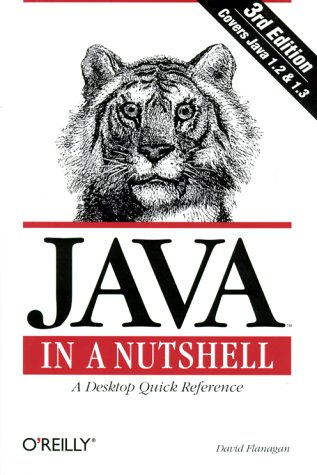 Just Java by Peter van der Linden
A Java Classic. I own two editions of this and when the next one comes out I will buy that. A must buy

Thinking in Java by Bruce Eckel
Like the title implies Bruce tries to make you think the Java way. He is an expert C++ author and one of the best explainers of programming concepts alive.